Year 9 students enjoy flagship aspirations programme!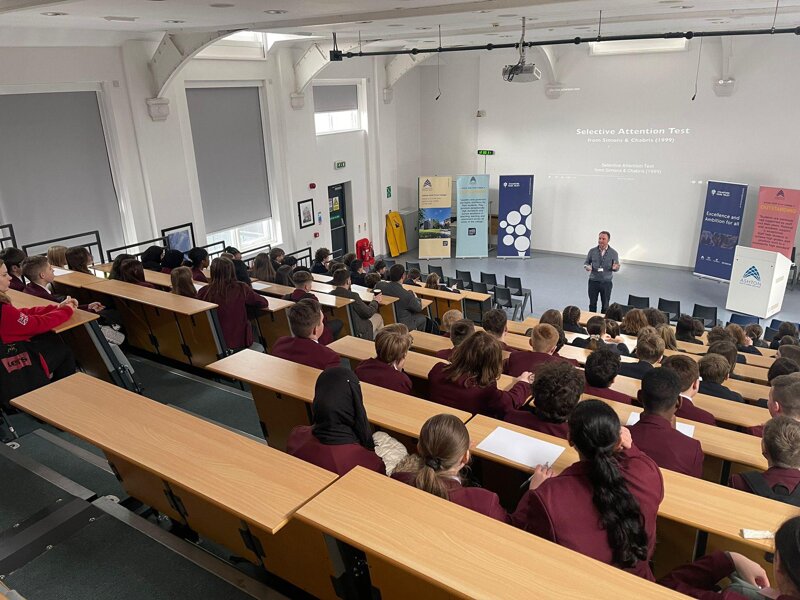 Year 9 high achieving students from Longdendale High School and Rayner Stephens High School paid a visit to Ashton Sixth Form College as part of the bespoke Aspirations programme exclusively available to students within Stamford Park Trust.
CEO Anton McGrath kicked off the day by reiterating the importance of working together across the Trust to make our vision of 'Excellence and Ambition' a reality.
For the first session, Ashton Sixth Form College XL Manager had students working on their critical and analytical thinking as well as their resilience, a taster of the skills needed to join the XL Programme and their further education.
Next up was a taster of the ASFC Realising Aspirations Programme, which prepares students for life after college through university-level teaching and explores the opportunities at degree-level. Asking students 'why can't it be you?' when it comes to university.
Finally, students got a taste of college life with a tour of campus and our shared facilities across the Trust.
There is real strength in our collaboration, that's why we encourage all students to participate in our flagship Aspirations programme, exclusive to the members of our Stamford Park Trust Family. Designed to help students develop both academically and personally, and prepare for a bright future ahead, whether at university, in higher-level apprenticeships or in the world of work. All students, from year 7 to year 11, have the opportunity to work with the college, local universities and prestigious employers to help them become the very best version of themselves.
CEO Anton McGrath said: "It was fantastic to see year 9 students from both Rayner Stephens ad Longdendale High Schools at Ashton Sixth Form College today to learn about their options post 16 and beyond. Our realising aspirations programme supports our core ambition of education and ambition for all, and helps students think carefully about their futures. By working together across the Trust, we can provide truly collaborative support for all students, assist with crucial transitions and help students to develop the confidence to strive to reach their goals. I'm sure today was a useful and exciting day for our visitors, providing answers to questions and opening new avenue of possibility."
Students were great and very engaged on the day, with many saying they are now starting to think about life after school and college and what the future holds.